Posts for tag: wedding day smile
By Proven Dental
May 03, 2021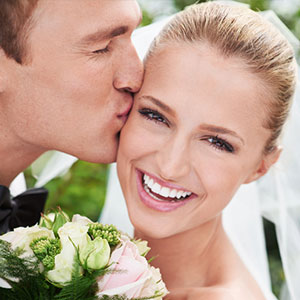 Each of life's moments are precious—but some are more precious than others. For one like your wedding day, you want to look your very best.
Be sure your teeth and gums are also ready for that once in a lifetime moment. Here are a few cosmetic enhancements that can transform your smile appearance.
Dental cleanings. Having your teeth cleaned professionally not only boosts your dental health, but it can also enhance your smile's brightness. A dental cleaning removes plaque and tartar that can yellow and dull teeth. With plaque out of the way, your teeth's natural translucence can shine through.
Teeth whitening. For an even brighter smile, consider teeth whitening. We apply a bleaching solution that temporarily whitens your teeth. With a little care on your part and occasional touchups, your brighter smile could last well beyond your wedding day.
Tooth repair. A chipped or cracked tooth can ruin an otherwise perfect smile. We can often repair mild flaws by bonding tooth-colored composite resins to the defective area, usually in one visit. Porcelain veneers or crowns can mask more moderate imperfections, but they must be undertaken well in advance of your big day.
Teeth replacements. We can restore those missing teeth ruining your smile with dental implants. An implant replaces the tooth root as well as the crown to create a stable and durable hold that can last for years. But similar to porcelain restorations, an implant restoration could take months—so plan ahead.
Orthodontics. Correcting a bite problem through orthodontics can have a huge impact on your smile. Straightening teeth isn't just for teenagers—you can undergo treatment at any age. And if you opt for clear aligners, no one but you and your orthodontist need know you're wearing them.
Cosmetic gum surgery. Even if your teeth look perfect, too much of your gums showing could detract from your smile. If your "gummy smile" is caused by excess gum tissue, there are a number of plastic surgical techniques that can restructure the gums so that they appear in right proportion with the teeth.
If you want a more attractive smile on your wedding day, see us as soon as possible for a full evaluation and assessment of your needs. Depending on what you need, we have the means to make your smile live up to that moment of moments.
If you would like more information on smile enhancements, please contact us or schedule an appointment for a consultation. You can also learn more about this topic by reading the Dear Doctor magazine article "Planning Your Wedding Day Smile."
By Proven Dental
November 20, 2017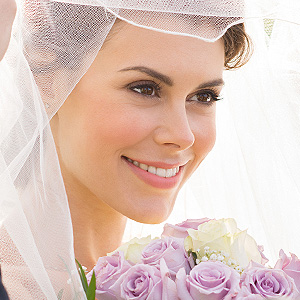 Congratulations—you're engaged! It's a stupendous (and hectic) time in your life as you plan your upcoming wedding.
You want to look your best for the big day—which means you may be dieting, exercising or making changes to your hairstyle and makeup. Be sure, though, to consider another important part of your appearance—your teeth and gums. Here are a few options that could help your wedding day smile shine even more.
Cleanings and whitening. While dental cleanings are primarily about removing disease-causing plaque and tartar they can also give your teeth that clean and polished look. And if you want an extra boost in brightness, consider whitening—we may be able to lighten up your teeth's stain-induced dullness.
Bonding. If your teeth have slight imperfections—chipping, slight gaps or staining that doesn't respond well to whitening, consider bonding techniques to repair or cover these defects. Composite resin is a dental material that can be shaped and bonded to teeth to reform a deformed tooth—and with color matching as well. For more extensive defects you can cover the front of imperfect teeth with bonded porcelain veneers or completely cap a tooth with a custom crown.
Tooth restorations. If you have missing teeth marring your smile, you have several options. The top choice: dental implants, which replaces the root of the tooth and will be able to have a crown attached to it. An implant can thus restore both better function and appearance. For more affordable options, you can also turn to fixed bridges or removable dentures. The latter can be custom designed to replace all the teeth on a jaw arch or just a few in different locations.
Gum enhancements. Teeth aren't the only part of your smile that might need a helpful touch—your gums' appearance might also be a problem. There are cosmetic procedures including plastic surgery and tissue grafting that can help correct overly prominent "gummy" smiles or, at the other end of the spectrum, longer appearing teeth because of gum recession.
Orthodontics. If you have extended time before the wedding date, we may be able to correct crooked teeth or a poor bite (malocclusion) that's adversely impacting your smile. In some cases, you may be able to choose clear aligners, removable plastic trays that are hardly noticeable to others, over more visible braces to correct your bite.
If you would like more information on cosmetic dentistry for lifetime events, please contact us or schedule an appointment for a consultation.