Posts for tag: tmj disorders
By Proven Dental
November 10, 2021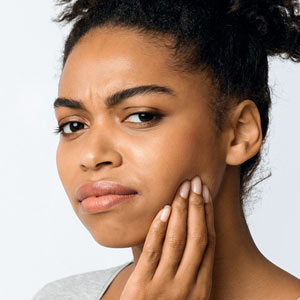 Tenderness; headaches; difficulty chewing; excruciating pain. These are a few of the symptoms you could endure with a jaw joint or temporomandibular disorder (TMD or TMJ). This group of disorders disrupts the daily lives of millions of people around the world.
This month is TMJ Awareness Month, to shed light on these debilitating conditions and how best to manage them. Although controlling TMD isn't always easy, it can be done with the right blend of treatments.
The temporomandibular joint—actually a pair of joints connecting the lower jaw to the skull on either side of the face—is "ground zero" for TMD. These are ball-and-socket joints similar to the hip or shoulder, but with a unique addition—a cushioning disk that lies between the adjoining points of the two bones that temper the forces generated when you eat, speak or bite down.
Researchers believe TMD can arise from a variety of sources, including traumatic injury, psychological stress or mechanical dysfunction within the joint and cushioning disk. These problems can create blood flow constriction, which in turn causes the accumulation of chemical waste byproducts in the jaw muscles. This in turn and cause the muscles to spasm and become inflamed and sore.
Treatments are also as numerous as the possible causes of TMD. But for the most part, they range along a continuum of conservative to aggressive approaches.
On the conservative end, doctors treat TMD as a joint problem and borrow heavily from orthopedics. These types of treatments include the use of anti-inflammatory and muscle relaxing medications, icing or heating, stretching exercises, physical therapy and massage. Dentists may also provide mouth guard appliances for patients with clenching or tooth grinding habits to decrease biting forces.
On the more aggressive end are interventions like orthodontics or dental work. But, while these were common recommendations 20-30 years ago, it's no longer thought to be necessary for treating most TMD disorders and should not be recommended as a cure or solution for TMD.  At the furthest extreme is actual jaw surgery to relieve symptoms or repair damage within the joints. The latter, however, has not yet amassed a solid track record, and should be considered as a last resort.
Finding the right combination of therapies to give consistent relief sometimes requires a bit of trial and error. Most doctors recommend starting first with the most conservative methods before considering more aggressive measures. You should also undergo a complete dental exam to see if teeth or gum problems are contributing to your symptoms.
TMD can make your life miserable. But with some persistence and patience, you can find what works for a life without pain and dysfunction.
If you would like more information about managing TMD, please contact us or schedule a consultation. To learn more, read the Dear Doctor magazine article "Seeking Relief From TMD."
By Proven Dental
June 22, 2021
Temporomandibular joint disorder (TMD) is an umbrella term for a number of chronic jaw problems. These conditions cause recurring pain for 10 to 30 million Americans, especially women of childbearing age.
But even after decades of treatment and research, a full understanding of TMD's underlying causes eludes us. That doesn't mean, however, that we haven't made progress—we have indeed amassed a good deal of knowledge and experience with TMD and how best to treat it.
A recent survey of over a thousand TMD patients helps highlight the current state of affairs about what we know regarding these disorders, and where the future may lie in treatment advances. Here are a few important findings gleaned from that survey.
Possible causes. When asked what they thought triggered their TMD episodes, the top answers from respondents were trauma, stress and teeth clenching habits. This fits in with the consensus among experts, who also include genetic disposition and environmental factors. Most believe that although we haven't pinpointed exact causes, we are over the target.
Links to other disorders. Two-thirds of survey respondents also reported suffering from three or more other pain-related conditions, including fibromyalgia, rheumatoid arthritis and chronic headaches. These responses seem to point to possible links between TMD and other pain-related disorders. If this is so, it could spur developments in better diagnostic methods and treatment.
The case against surgery. Surgical procedures have been used in recent years to treat TMD. But in the survey, of those who have undergone surgery only one-third reported any significant relief. In fact, 46% considered themselves worse off. Most providers still recommend a physical joint therapy approach first for TMD: moist heat or ice, massage and exercises and medications to control muscle spasms and pain.
These findings underscore one other important factor—there is no "one size fits all" approach to TMD management. As an individual patient, a custom-developed action plan of therapy, medication, and lifestyle and diet practices is the best way currently to reduce the effects of TMD on your life.
If you would like more information on TMD management and treatment, please contact us or schedule an appointment for a consultation. You can also learn more about this topic by reading the Dear Doctor magazine article "Chronic Jaw Pain and Associated Conditions."