Posts for tag: orthodontics
By Proven Dental
June 21, 2020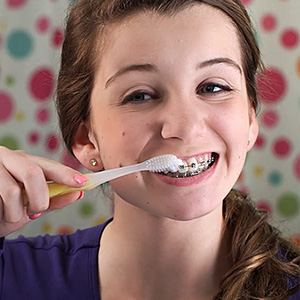 Keeping your teeth and gums healthy isn't always easy—and it's even more of a challenge if you're wearing orthodontic appliances like braces. That's why a fair percentage of patients wearing braces also contend with tooth decay or periodontal (gum) disease.
The reason is simple: The orthodontic hardware makes it difficult to fully reach all parts of teeth surfaces with your toothbrush or floss. As a result, you can miss removing some of the accumulated plaque, the thin film of bacteria and food particles most responsible for dental disease. And it only takes a short amount of time (just days with gum disease) for a bacterial infection to begin.
But while avoiding dental disease is difficult while wearing braces, it's not impossible. Here are 4 ways you can minimize your dental disease risk while undergoing orthodontic treatment.
Be diligent with your daily hygiene. Even though it's more difficult, don't slack on daily brushing and flossing. It does require more time to work the brush around and between the wires and brackets, but taking the time will help you clear away more plaque you might otherwise miss. It may also help to switch to a multi-tufted, microfine bristled toothbrush if you're not already using one.
Use a water irrigator. If straight thread flossing is proving too difficult (and even with a floss threader), try using a water irrigator. This device emits a pulsating spray of pressurized water that loosens and flushes away plaque between teeth. Clinical studies consistently show water flossing is effective for reducing plaque in orthodontic patients.
Lower your sugar intake. Sugar left over in the mouth is a prime food source for bacteria that cause tooth decay or gum disease. Reducing sugary foods and snacks can help reduce bacterial populations and lower your disease risk. You can also fortify your oral health with healthier foods that contain calcium and other minerals.
Keep up regular dental visits. In addition to your orthodontic adjustments, don't neglect your regular visits with your family dentist. Semi-annual cleanings help remove any plaque and calculus (calcified plaque) you may have missed. Your dentist can also monitor your health and boost your disease prevention through topical fluoride treatments or prescribed antibacterial mouth rinses.
If you would like more information on dental care while wearing braces, please contact us or schedule an appointment for a consultation. You can also learn more about this topic by reading the Dear Doctor magazine article "Caring for Teeth During Orthodontic Treatment."
By Proven Dental
June 21, 2018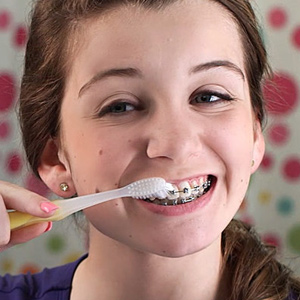 A "perfect storm" of dental disease could be brewing for your teenager undergoing orthodontic treatment. As braces or other appliances complicate hygiene efforts, newly erupted permanent teeth and changing hormone levels could also increase their susceptibility to tooth decay or gum disease.
Here are a few tips for helping your teenager maintain healthy teeth and gums while wearing braces.
Eat a Healthy Diet. Nutrition is a key component in a healthy mouth. Your teenager should eat a diet low in sugar, a key food source for bacteria that cause dental disease, and acidic foods and beverages that cause enamel erosion. Limit between-meal snacks to only a few times a day and drink acidic beverages only at mealtime.
Brush all Tooth and Gum Surfaces. For patients who wear braces, it's important to thoroughly brush above and below the wire running through the affixed brackets. Holding the brush at a 45-degree angle, brush between the wire and gums all the way around both the upper and lower jaws, then repeat the same technique brushing surfaces below the wire.
Clean Between Teeth. Flossing can be difficult while wearing braces, but plaque removal from between teeth is necessary for healthier teeth and gums. Orthodontic patients can benefit from special flossing tools like floss threaders, small interdental brushes or irrigators that remove plaque with sprayed water under pressure.
Incorporate Fluoride into Your Dental Care. A proven decay-fighter, fluoride strengthens enamel against erosion and infection. In addition to hygiene products and many drinking water systems, we can also supplement fluoride through gels or varnishes applied to the teeth during office visits, as well as prescription toothpastes or rinses with higher levels of fluoride for patients at higher risk of dental disease.
Use an Antibacterial Mouthrinse. Orthodontic patients with gingivitis (gum inflammation) or other bacterial-induced conditions may benefit from over-the-counter or prescribed antibacterial mouthrinses.
Maintaining an orthodontic patient's teeth and gums can be difficult, but not impossible. A little extra attention — along with regular office cleanings and checkups — will go a long way in preventing dental disease.
If you would like more information on effective oral hygiene while undergoing orthodontic treatment, please contact us or schedule an appointment for a consultation. You can also learn more about this topic by reading the Dear Doctor magazine article "Caring for Teeth During Orthodontic Treatment."
By Proven Dental
July 22, 2017
Magician Michael Grandinetti mystifies and astonishes audiences with his sleight of hand and mastery of illusion. But when he initially steps onto the stage, it's his smile that grabs the attention. "The first thing… that an audience notices is your smile; it's what really connects you as a person to them," Michael told an interviewer.
He attributes his audience-pleasing smile to several years of orthodontic treatment as a teenager to straighten misaligned teeth, plus a lifetime of good oral care. "I'm so thankful that I did it," he said about wearing orthodontic braces. "It was so beneficial. And… looking at the path I've chosen, it was life-changing."
Orthodontics — the dental subspecialty focused on treating malocclusions (literally "bad bites") — can indeed make life-changing improvements. Properly positioned teeth are integral to the aesthetics of any smile, and a smile that's pleasing to look at boosts confidence and self-esteem and makes a terrific first impression. Studies have even linked having an attractive smile with greater professional success.
There can also be functional benefits such as improved biting/chewing and speech, and reduced strain on jaw muscles and joints. Additionally, well-aligned teeth are easier to clean and less likely to trap food particles that can lead to decay.
The Science Behind the Magic
There are more options than ever for correcting bites, but all capitalize on the fact that teeth are suspended in individual jawbone sockets by elastic periodontal ligaments that enable them to move. Orthodontic appliances (commonly called braces or clear aligners) place light, controlled forces on teeth in a calculated fashion to move them into their new desired alignment.
The "gold standard" in orthodontic treatment remains the orthodontic band for posterior (back) teeth and the bonded bracket for front teeth. Thin, flexible wires threaded through the brackets create the light forces needed for repositioning. Traditionally the brackets have been made of metal, but for those concerned about the aesthetics, they can also be made out of a clear material. Lingual braces, which are bonded to the back of teeth instead of the front, are another less visible option. The most discrete appliance is the removable clear aligner, which consists of a progression of custom-made clear trays that reposition teeth incrementally.
How's that for a disappearing act?!
If you would like more information about orthodontic treatment please contact us or schedule an appointment for a consultation. You can also learn more about the subject by reading the Dear Doctor magazine article "The Magic of Orthodontics."